Prologue for Journey 2016 – #JourneytoWork
June 27, 2016
Small Towns and Loyal Supporters – #JourneytoWork
June 29, 2016
By Doug Hamlin, Our Ability – see more on Facebook
The second day of Journey 2016 was awesome! Senator Ortt, Kevin Kerins from the Canal Corp, Community Services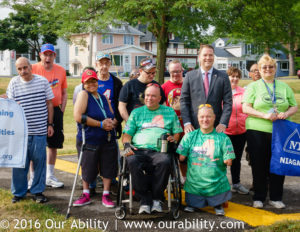 for the Developmentally Disabled and Opportunities Unlimited were there to see us off and remind us just why we do
this thing!
High praise for the Canal Corporation for trail upgrades between Tonawanda and Lockport. We got to our lunch in Lockport is a record (for us) two hours. Nothing wrong with Lake Effect Ice Cream before noon. This was my sister Priscilla's first full day on the ride with us. She did a great job. Now we have to break it to her that we do it all again tomorrow (and the next, and the next …).
Trish's friend Mark joined us today as well on his way cool recumbent bike.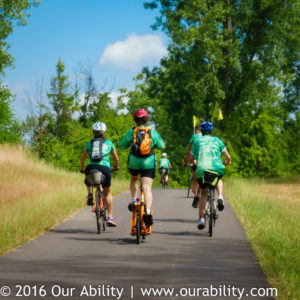 Our trip from Lockport to Medina was HOT! Good pace though, nice hard packed stone dust and great conversation made the time fly. Many thanks to the Medina Chamber of Commerce for greeting us with cold water and great enthusiasm.
Finally, our very good friends Trish, Paul and especially Rosie Zdep (the chef) made us an awesome dinner at their home.
Moving day tomorrow (to Country Inn in Rochester) as we make our way from Medina to Spencerport.