New trails, new riders, new speed records. #JourneytoWork
June 28, 2016
Day Three of the Journey Along the Erie Canal
June 30, 2016
By Pam Hamlin – Blogger and Doug's Biggest Supporter
As a guest blogger I chose to write about the section of the trail between Medina and Spencerport. It is absolutely one of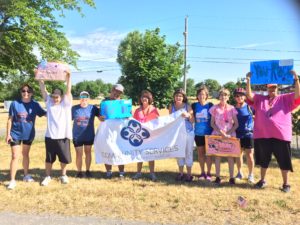 my favorite sections to ride! I love riding with the original Canal to my right, the growing cornfields and picturesque wheat fields to my left, and talking to some of my favorite people as we ride our bikes in between.
Today we left from Medina at 9:30 am. It was already a warm 70 degrees with few clouds overhead. A group from Community Services for the Developmentally Disabled from Buffalo made the ride to Medina to see us off. We loved their signs and their enthusiasm and thanked them immensely for their support. It is always fun for us to receive a send-off!! Two special points of interest along the way were the Medina Culvert (the only culvert built under the Erie Canal) and the blue historic marker indicating that we were passing the northernmost point on the Canal. I love reading the town names on the bridges as we ride by, seeing the beauty of the farmland and enjoying being outside in the summertime. We stop to eat our usual lunch of pb&j sandwiches along the trail in Hulberton where my brother-in-law, Steve, also replenishes our supply of cold water. It's important to
stay hydrated!! As we continue on our way my right calf is slowly getting sunburned (a unique problem when pedaling the Canal from west to east!). We arrive in Spencerport mid afternoon. I love seeing the white gazebo on the Canal, the local Erie Canal Museum and the Hometown Hero banners on the town lampposts.
This is my fourth year riding with Our Ability. I continue to enjoy the camaraderie of this wonderful group of people, the spectacular beauty of New York State, and the history of the Erie Canal. It continues to be a special ride, with special people, for a special cause.