Day 6 to Chittenango and a Day of Rest!
July 3, 2016
Day 9 Blog – Three Friends Perspective – #JourneytoWork
July 6, 2016
By Doug Hamlin  – Day 7 – The Longest Day with early inspiration.
Today we had the privilege to ride with Nichole Hastings for the first seven of our 42 miles to Lock 20 in Utica. I met Nichole last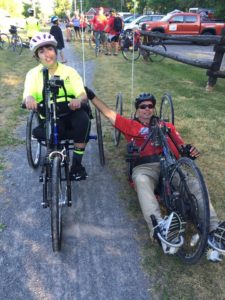 summer when I spoke at the ADA 25th Anniversary celebration. Nichole was gracious enough to say that I inspired her to work toward joining Journey 2016. Well, today she inspired me. Nichole has cerebral palsy, which does not slow her down a bit. She met us at 6:00am and was the star of the live shot on the early WSTM news. Then she led us off the starting block and down the trail. Thanks Nichole – you are OUR inspiration.
Later – down the road, Lisa suffered a flat tire requiring some mid-ride mechanics, but she recovered quickly. The trail was tough in spots for John and Doug with lots of stone dust and grass, but we powered through and were rewarded with some well deserved paved downhill!
All-in-all, a long day, but the annual 8 miles of "mosquitoville" was thankfully mosquito free!
We arrived at Lock 20 where Steve provided a cake to celebrate Andrea's birthday – Happy Birthday Andrea!!