The Longest Day and Inspiration on Journey 2016
July 5, 2016
Days 9 and 10 – Great Events and Strong Challenges – #JourneytoWork
July 7, 2016
By Laura Empie, Leah Giodano and Lisa Alexander
New Bikes – Old  Friends
Our journey began on Wednesday, June 29th as we joined Doug and John during their first week of their bike ride from Buffalo to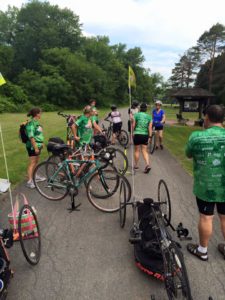 Albany. Laura, Leah and Lisa all returned for another year – but this time with new bicycles! We were so inspired by our incredible journey last year that we tossed away a borrowed bike, an old mountain bike and, what one of our daughter's fondly refers to as, a "mom bike"! We believed, with our updated equipment and our new knowledge of bike repair and maintenance, we were ready to meet the "Journey Along the Erie Canal" challenge for 2016!
Very quickly we saw that while our cycling abilities had improved tremendously as we pedaled down the same old trail, what remained constant and unchanging from the previous year was the fulfillment and pride of riding side by side with John and Doug (and at times behind, trying to keep up!) Their endurance and forever optimistic and effervescent personalities inspired us, as did the bikers that came out to meet us from various facilities along the way throughout the 100+ miles we road along the Erie Canal.
Our new knowledge and the advice given to us by the more experienced riders about tire changes, quick handling turns, best seat and feet positions and height, which gears for hills and which gears to use for coasting, was rewarding. However, again, what we always came back to was John and Doug and how successful they both are in meeting the challenges they face every day. They don't reject their disabilities, they accept them and overcome them and both have incredible abilities! What keeps them motivated as we travel along the Canal path?   Perhaps it's the friends and family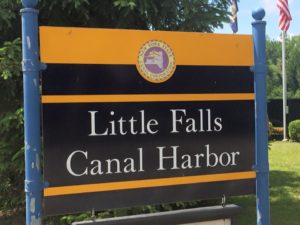 companionship, the good weather, Steve providing safety support with the truck, Trish with her steadfast trail and bike knowledge guiding us, Heidi riding as point guard, Anthony always popping up to grab a photo or that they are able to inspire those we meet along the trail?  We may never know the extent, but we have a greater appreciation for all abilities.
Being a part of this whole incredible group of devoted friends and family members certainly provided us with a lot of laughs, an opportunity to develop new friendships, showed us how natural public speaking could be and left us with feelings of pride and accomplishment! We brought new bikes but covered the same old trail with two men who showed us what is really important. Thank you John and Doug for again including us in your adventure! L…L…L