Day Four on the Journey Along the Erie Canal – #JourneytoWork
July 1, 2016
Day 6 to Chittenango and a Day of Rest!
July 3, 2016
Day Five – Our biggest fans made a surprise visit at the ends in Camillus. Our friends from the Thomkins County ARC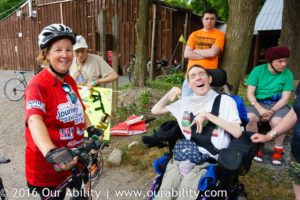 came out to join us. There were fifteen people who cheered and greeted us at the end.  They made congratulations signs and placed them along the canal. What a great treat ton have surprise fans!  It made the end of the 37+ miles journey very special.
We started the day at Clyde NY along Route 31 and rolled through farm land.  I love this part of the trail.  It has great views of New York and is paved!  After four days of stone dust, it is nice to roll a little. But, the trade off is there are large hills to climb. As we rolled along, we made our annual stop at a mennonite farm stand for Strawberries and home made goodies.  We make sure we have money in our bike bags knowing we have the farm stand.  The hosts of the stand recognized our crew this year. One of our group on Day 5 is Sharon Roegiers – long time friend from Wayne County. She is 5′ 11″ and the mennonite recognized Sharon!  I am jealous of her height!
Sharon also had the best wildlife moment on the trip to date.  We normally see wildlife along the trail and Day 5 was no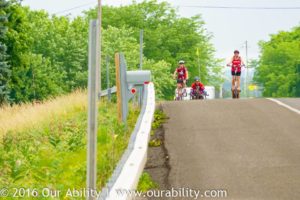 different.  We saw turtle, deer, cattle, vulture, eagles and snakes.  It is normal to see garden snakes along the path but on Day 5 we had a special encounter.  Sharon went up to take a picture of a different-looking snake (below) and as she approached, it started to coil and wiggle its tail.  Yes, New York has some rattlesnakes!
A great day with our biggest crew.  We finished in Camillus at 3pm and have now finished 176 miles – more that half way to Albany.