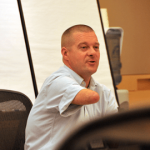 Our Ability Recognized by International Organization for Work on Jobs Ability
December 2, 2022
Logistics Coordinator | Tractor Beverage Company Hayden, Idaho
December 13, 2022
The Stories That Need to Be Told
Disability advocacy begins and ends with storytelling. We lift each other up through the stories we share. We share stories of problem-solving in an able-bodied world. We share our achievements in building relationships. We highlight employment and entrepreneurship as a beacon of hope for others that come after us. We connect with our friends in the disabled community through these stories and come to better understand our successes and failures.
Just recently, I had the opportunity to share such stories at the Villanova University Disability Inclusion Conference in the Philadelphia suburb of Villanova, Pennsylvania. It was the first disability conference I have attended since the Covid-19 outbreak and was a remarkable event that reinforced how important disability advocacy, inclusion, and employment opportunities are to Our Ability, Inc.
Valuable 500 founder Caroline Casey led off the morning sharing stories about building a business community, and how her passion met her ability. She also talked about the role her father played in guiding her journey in the beginning. Caroline is a force of nature and will continue to lead the discussion on disability inclusion. She shared with the audience how only 4 percent of companies mentioned disability as part of their diversity, equity and inclusion (DEI). This is an opportunity for us to be more vocal to grow disability inclusion as part of DEI.
ProFound founder Meredith Sadoulet and I then took the stage to discuss takeaways the business community needs to know in advancing disability employment. Disability has a personal connection with Meredith, the mother of a young child with a disability. Meredith she's building a coaching/support network among people with disabilities in corporate America.
I had the opportunity to speak about my unemployment employment path, which has led to the growth of Jobs Ability. I was especially proud to have shared with the audience the recognition we're receiving from the upcoming Zero Project in 2023!
Our discussion was followed by a remarkable session that included Let's Be Frank CEO Frank Kineavy, and how his company is placing individuals with disabilities inside corporate America in the Villanova area. Our goal will be to work with Frank to assist candidates find open positions in partnership with our website. Frank is a fantastic advocate!
If Our Ability is going to grow employment opportunities for people with disabilities, we must share stories. We must bring attention to those people with disabilities who have achieved great things in the employment arena, and those businesses that have included disability inside diversity, equity and inclusion. And we must share stories to continue to lift all people with disabilities.