Golf Opening Its Arms to Adaptive Athletes Everywhere
August 30, 2022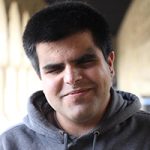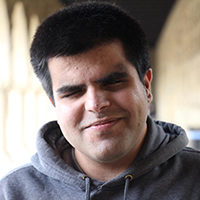 Our Ability Announces New Hire to Support AI & Engineering
September 8, 2022
By John Robinson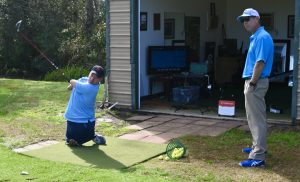 My grandfather was the one who pitched baseballs to me and taught me how to hold a bat and grip and throw a baseball. But when it came to golf, I had no such mentor. I had to figure it out all on my own and be my own swing coach.
Granted, I did have some help. The day my grandfather learned that I had been booted out of Little League for being an injury risk, he got out the lawnmower and created a four-hole short course for me, complete with plastic margarine containers for cups. Each hole was approximately 40 yards long, and I went out there every day that summer with my cut-down 7-iron and putter, trying to figure out how to get the ball in the plastic cup in the fewest number of strokes possible.
Neither my grandfather or my dad, who played some, really knew how to teach me. But I quickly figured out that the golf swing wasn't much different from my baseball swing—albeit on a much more titled plane. The hardest thing for me was adjusting to the ball being on the ground, versus sitting on a two-foot-high tee like we had in Tee-ball.
For several summers, the four-hole farm course was the only course I played. It wasn't until I was 11 years old that I would start joining my Uncle Douglas and his friend Charlie on Friday afternoons at Skaneateles Greens, an 18-hole course in Borodino, N.Y., just outside of Syracuse. That's where I got my first real indoctrination into golf and all of the subtleties that make it such a challenging game. The greens were much faster than the makeshift greens I had on the farm, and there were sidehill lies, sand bunkers and, oh yes, water. Worst of all for me, there were hills, and lots of them.
Looking back now, I can only imagine how much faster the learning curve would've been and how much better I'd be today if there were a training program designed specifically for golfers with disabilities. Had I learned the basic fundamentals, set-up adjustments and correct neuromuscular patterning movements back then, I'd be much more consistent in every part of my game today.
Now, that program is here. It's called The Golf Fundamentals Model for Adaptive Golfers. This nearly 40-minute-long video course, developed by long-time PGA Teaching Professional and Golf Fundamentals Model President & CEO Kirk Jones, is the first digital training platform of its kind geared specifically for the adaptive golfer. Much like the other courses and series in the Golf Fundamentals Model, it follows a simple, sequential and scientifically-validated approach to learning the game. There are a lot of swing tips out there online, on TV and in magazines and books, and it can be very confusing and frustrating to learn how to play golf well. It's why so many people with and without disabilities quit the game out of frustration, or don't bother trying in the first place. This model helps eliminate much of the contradictory information that is out there, and makes the game so much easier to learn.
I had the great privilege of representing the adaptive golfer community and serving as the model student for this video learning platform. In the time since I filmed this course in February, my game has improved substantially. Yes, I had a bit of a head start, and I certainly wouldn't classify myself as a beginner, but my understanding of the game and ability to apply what I learned in those 40 minutes has made me a much more consistent ball-striker, with every club in my bag. The modifications that Kirk made to my driver and putter have also paid huge dividends.
Best of all, the Adaptive Golfers model doesn't require you put in a ton of time on the practice tee to get better. You'll see an almost immediate improvement in your performance, just by going through the exercises and drills in the video as little as 15 minutes per day, three or four times per week. Two exercises, in particular, have played a vital role in my improvement. The Golf Fundamentals Strength and Speed Trainer exercises have given me a few extra miles per hour of clubhead speed with my driver. I swing the weighted clubs two or three times per week in my living room, trying to get the shaft to make an audible "whoosh" sound, and I can feel my body moving through the ball faster. I have a much fuller range of motion now. And by placing the Flex-Head G3 Tees in front of the ball, as Kirk showed me, I'm able to hit down and get through the ball much more efficiently. When I'm on the course and I'm not hitting the ball well, whether it's with my irons or around the greens with my wedges, I envision the tee in front of the ball and it really helps.
In filming this video, it's instilled in me something I've always believed, and that's despite being different, the golf swing and putting stroke really aren't that different. It's all about making pure contact with the ball. The more square the clubface and putterface are at impact, the better contact you're going to make, and the better opportunity you're going to have to make the ball go where you want it to go.
Before I tell you where you can purchase this video, I want to applaud Kirk for doing this. It's fantastic that he sees the value and ability of golfers with disabilities. Anyone that has a physical or intellectual disability and has played or is new to the game of golf, that wants to learn how to play the game better or just for fun, this is a great place to start. It's really wonderful.
The Golf Fundamentals Model for Adaptive Golfers is available for purchase on www.GolfFundamentalsModel.com as an individual course ($15) or Complete Learning Series ($400) of courses. The Complete Learning Series consists of the Adaptive Golfers course and six other individual courses, including Putting, Chipping/Short Game and Full Swing Longs (i.e., driver, fairway woods). You also receive one Golf Fundamentals Training Mat, which teaches you how to aim correctly while also outlining how to alter your swing path to make the ball draw or fade; 10 Flex-Head G3 tees; one Putting Arc training aid; one Golf Fundamentals Strength and Speed Trainer; one soft, plastic training ball and a mirror. You also have an option to purchase The Golf Fundamentals Model book for an additional $60.
In the very near future, I'm hoping to be able to sell the individual course and Complete Learning Series right here, at OurAbility.com. For right now, make sure to visit www.GolfFundamentalsModel.com and get started on your path to playing your best golf ever!