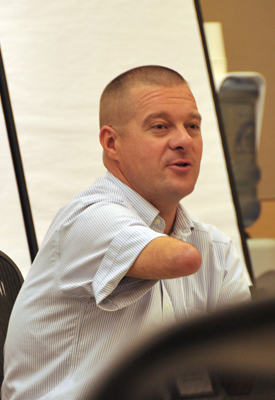 John Robinson
Our Ability, CEO
Our Ability Alliance/NYBLN, Executive Director

In 2014, John Robinson was named one of ten national White House Champions of Change for Disability Employment and honored with the Excelsior College President's Award for Advocacy in 2010. Since 2011, he's served as managing partner, CEO and Founder of Our Ability, which provides inclusive workforce and employment consulting, mentoring, workshops, keynotes and seminars on disability and diversity. Our Ability's clients have included Cargill, Inc., Microsoft, Bank of America, Aflac, SEFCU and Price Chopper. John additionally founded Our Ability Connect, the only online platform where employers can directly connect with qualified candidates with disabilities by searching a digital profile service, posting employment opportunities and sponsoring virtual job fairs. As Executive Director of the New York Business Leadership Network, he builds coalitions among New York State businesses interested in both hiring and building supplier diversity of businesses owned by individuals with disabilities. John was the subject of "Get Off Your Knees: The John Robinson Story," a public television documentary and "Get Off Your Knees: A Story of Faith, Courage, and Determination," an autobiography published in 2009.
"I left corporate America after 20 years to give back to our community of individuals with disabilities and provide new opportunities for employment."
Doug Hamlin
Our Ability, Vice President of Operations
Doug Hamlin spent over 27 years at Versatrans (now part of Tyler Technologies). Fifteen years in both technical and marketing roles prepared Doug for executive leadership of this 80-person software company dedicated to providing exceptional products and service to the K-12 education industry.
As President and CEO he traveled extensively throughout North America to understand the needs of clients and translate them into effective business solutions. Doug takes pride in developing corporate strategy and aligning the organization to execute that strategy. Doug has presented at numerous K-12 transportation and administration conferences on the value of leveraging technology to drive efficiency through the organization.
Doug has a Bachelor of Arts Degree in Geography and a Masters Degree in Urban and Regional Planning. He lives in upstate New York with his wife Pam.
"Early on, my employer looked past my challenges and directly at my skills. It's my responsibility to encourage and empower others to do the same."
MaryBeth Schneider
Our Ability, Vice President of Network Development and Member Services
With close to 30 years of experience of supporting people who have disabilities to be included in all aspects of community life, MaryBeth Schneider is now directing all her focus and energy on cultivating a strong and dynamic New York Business Leadership Network.
Throughout her career with NYSARC Inc., New York's largest non- profit organization supporting people with developmental and other disabilities, MaryBeth has prioritized the issues of employment, self-advocacy, rights protection and creative, person-centered approaches to helping people meet their life goals. She is now looking forward to using that experience to support businesses that embrace the idea, and understand the value of, an inclusive workforce.
"I am so pleased to be working with John and Doug to close the gap between businesses seeking diversity in their workforce and the people with disabilities who are ready and able for meaningful employment in every industry at every level."
Rebecca Diakunczak
Our Ability, Special Projects

Rebecca graduated from Wright State University In June 2009 and received a Bachelor's degree in Human Resource Management with a minor in Marketing. Two days later, she started a position as a Human Resource Management Intern at Wright-Patterson Air Force Base near Dayton, Ohio. This position was given to her through participation in the Workforce Recruitment Program sponsored by the Department of Defense. A year was taken off from school in order to study for the Professional in Human Resources Certification, which she received in June 2010. Later that year, Rebecca enrolled as a graduate student at New York University and received her Master's in Human Resource Management in May 2014. A second chance to participate in the Workforce Recruitment Program came by receiving an internship from the New York State National Guard as a Projects Assistant. In January 2015, Rebecca accepted a part-time, permanent position to work as the Business Development Associate four Our Ability Inc.
"I studied Human Resource. Management and Marketing to help empower people with disabilities so they can reach their goals and aspirations."