Youth Transition / WIOA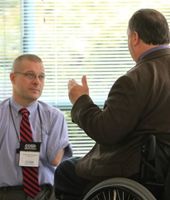 Our Ability provides employers with end-to-end training designed to create and maintain programs for youth transition employment outcomes. Because the term "disability" still holds a stigma for many, understanding how young individuals feel about being identified as a person with a disability is essential. Drawing from our decades of personal and professional experience, we equip organizations, individuals as well as businesses with the resources to confidently understand and navigate WIOA and best practices.
What is WIOA? Workforce Innovation and Opportunity Act
Improves Services to Individuals with Disabilities: WIOA increases individuals with disabilities' access to high quality workforce services and prepares them for competitive integrated employment.
Our Ability will provide the tools for physical and programmatic accessibility to employment and training services for individuals with disabilities.
Our training will assist youth with disabilities will receive extensive pre-employment transition services so they can successfully obtain competitive integrated employment.
State vocational rehabilitation agencies will set aside at least 15 percent of their funding to provide transition services to youth with disabilities.
VR state grant programs will engage employers to improve participant employment outcomes – Our Ability has the network of employers!
Benefits include:
Knowing which questions to ask and facilitate open dialogue.
Step-by-step know-how on processing youth transition.
Understanding and applying the government requirements around accommodation.
Reducing unconscious bias and myths about disability in youth and programs.
Increasing productivity and innovation by creating an understanding, comfortable work environment for all.
Embracing requirements that move beyond compliance, paving the opportunity for increased employee and customer loyalty.
Establishing guidelines and timelines for data collection, records keeping and access and reporting.
Outcomes
An action plan as part of EEO that can be followed to include disability as part of diversity hiring practices, hiring youth inclusive of job shadow, internships, part-time and full-time employment.
Better understanding on disability in the workplace.
Building programs for youth with disability in general society.
Building and supporting allies and members for your business resource group around disability.
Membership in Our Ability Inc., which allows you to search our database of candidates with disabilities across the nation.
Access to John Robinson to answer personalized questions for one-year period regarding specific trainings.
Competencies / SHRM
Global & Cultural Effectiveness
Leadership & Navigation
Effectiveness & Development
Diversity & Inclusion
Instructors/Presenters
John Robinson – Recently in March 2018, John Robinson was awarded the Capital Region Chamber Champion of the Year, in front of 1100 New York business leaders! John proudly accepted one of ten national White House Champions of Change for Disability Employment in 2014 in Washington D.C. Since 2011, he's served as managing partner, CEO and Founder of Our Ability, which provides inclusive workforce and employment consulting, mentoring, workshops, keynotes and seminars on disability and diversity. Our Ability is building a coalition of New York State businesses interested in hiring individuals with disabilities. John currently serves as an advocate for people with disabilities with the Disability:IN NY and was the subject of "Get Off Your Knees: The John Robinson Story," a public television documentary and autobiography.
"I left corporate America after 20 years to give back to our community of individuals with disabilities and provide new opportunities for employment."
Our Ability, Inc. is a certified of disability-owned business enterprises (DOBEs), with the Disability:IN – (formerly the United States Business Leadership Network).