Culture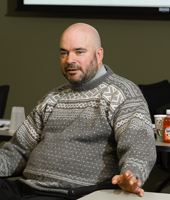 Our Ability facilitates communications designed to promote a disability inclusive culture that goes beyond compliance. Our customized, holistic approach guides employers through education, exposure and discussion, giving management, HR, co-workers – and even outside stakeholders and clients – the foundational skills to reduce the impact of bias, increase retention and lower turnover.
Having lived as or with people with disabilities ourselves, Our Ability leverages our firsthand knowledge in order to implement positive strategies that reduce fears and raise awareness. Underscoring that a deep understanding is key to any successfully inclusive workplace culture, we emphasize reality and straightforward, practical advice. Together, we'll also explore real-life scenarios through our exclusive series of disability awareness videos, created by people with disabilities
Benefits include:
Reducing barriers, increasing sensitivity and promoting tolerance.
Ensuring open dialogue and mutual respect.
Instilling inclusivity language and communication skills.
Building a successful, sustainable disability inclusive culture.
Providing a positive, employee and customer experience that celebrates inclusivity.
Decreasing employment liability exposure.
Outcomes
An action plan as part of EEO that can be followed to include disability as part of diversity hiring practices.
Better understanding on disability in the workplace.
Building a business case for your existing business to employ, recruit and sell to disabilities.
Building and supporting allies and members for your business resource group around disability.
Membership in Our Ability Inc., which allows you to search our database of candidates with disabilities across the nation.
Access to John Robinson to answer personalized questions for one year period regarding specific trainings.
Ability to record seminars in person or webinars for use for a two-year period, with additional licensing available for five years.
Competencies / SHRM
Global & Cultural Effectiveness
Leadership & Navigation
Effectiveness & Development
Diversity & Inclusion
Instructors/Presenters
John Robinson – Recently in March 2018, John Robinson was awarded the Capital Region Chamber Champion of the Year, in front of 1100 New York business leaders! John proudly accepted one of ten national White House Champions of Change for Disability Employment in 2014 in Washington D.C. Since 2011, he's served as managing partner, CEO and Founder of Our Ability, which provides inclusive workforce and employment consulting, mentoring, workshops, keynotes and seminars on disability and diversity. Our Ability is building a coalition of New York State businesses interested in hiring individuals with disabilities. John currently serves as an advocate for people with disabilities with the Disability:IN NY and was the subject of "Get Off Your Knees: The John Robinson Story," a public television documentary and autobiography.
"I left corporate America after 20 years to give back to our community of individuals with disabilities and provide new opportunities for employment."
Our Ability, Inc. is a certified of disability-owned business enterprises (DOBEs), with the Disability:IN – (formerly the United States Business Leadership Network).