Our Ability Inc. partners with businesses to provide customized, innovative inclusivity and disability expertise for business, sales, recruitment, culture, presentation skills, transition and youth outreach.
As pioneers in disability inclusion, employment and workplace accessibility, our dedicated, strategic guidance is built on 50 years of collective real-life experience working with small, medium and large organizations and government agencies, contractors and subcontractors. We deliver diversity solutions designed to minimize risk through resources, education and tools. Our goal is to empower employers to understand and leverage the increasingly valuable employment population of people with disabilities, proven to lower job turnover rates and boost morale and productivity – because a commitment to an inclusive workplace culture begins within.
Disability as Diversity 101: Recruitment / Business Case
Our Ability provides recruitment and employment interview training, equipping you and your staff to create a positive, comfortable experience when interviewing applicants with a variety of disabilities. Upon request, we can demonstrate Connect and discuss ways to use Connect in your organization with hiring managers, recruiters and senior management.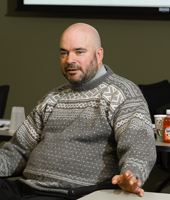 Disability as Diversity 102: Disability Culture
Our Ability facilitates communications designed to promote a disability inclusive culture that goes beyond compliance. Our customized, holistic approach guides employers through education, exposure and discussion, giving management, HR, co-workers – and even outside stakeholders and clients – the foundational skills to reduce the impact of bias, increase retention and lower turnover.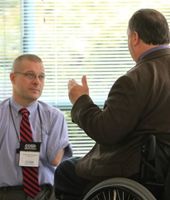 Disability as Diversity 103: Youth Transition & WIOA
Our Ability provides employers with end-to-end training designed to create and maintain programs for youth transition employment outcomes. Because the term "disability" still holds a stigma for many, understanding how young individuals feel about being identified as a person with a disability is essential.We navigate WIOA and best practices.


Disability as Diversity 104: Sales and Opportunity
Our Ability opens doors for organizations to explore the real possibility of doing well by doing good, that is, growing their market share, strengthening their talents base and raising engagement. When Our Ability partners with organizations to lean into the deeper sales efforts of openly exploring the harder, and sometimes uncomfortable conversations regarding disability to eliminate the fear of the unknown, or the fear of saying or doing the wrong thing, then organizations are freed to leverage the benefits of a broader talent base, and in the investment in an opportunity to create a more equitable life for all of their patients, and communities.
John Robinson spent 20+ years in commission-only sales – high income – high earner.
The message of Overcoming Obstacles has been utilized by sales managers all over the United States as a tool for organizational sales growth.
As an amputee, Robinson translates challenges into sales success for you and your organization.
Disability as Diversity 105: Presentation and Leadership
Our Ability facilitates communications…we can all learn from individuals with disabilities who are able to communicate and problem-solve.
Putting Presentation and Leadership to work with Executive, Leadership and/or Mission Critical Teams
Move from stuck, conflict laden, marginal result producing teams to unstoppable agents of high performance. Leverage renewed energy, focus and credibility toward being models of ever-changing, ever-striving dynamic teams, leading the way toward revived engagement of people, and their commitment to shared outcomes.
John Robinson and Doug Hamlin.
Our Ability, Inc. is a certified of disability-owned business enterprises (DOBEs), with the Disability:IN – (formerly the United States Business Leadership Network).